Race day on Sunday, April 6, 2014:
Registration & packet pick-up at the Lewiston – Altura High School

100 County Road 25, Lewiston, MN

Register on race day from 9:00am to 12:00pm

Packet pick-up is available on: 

Saturday, April 5th from 1:00pm to 4:00pm

Sunday, April 6th from 9:00am to 12:00pm

Fools Five Road Race begins at 1:00pm
Course Map: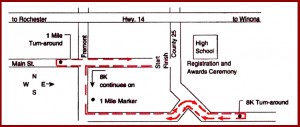 How Race Time is Calculated?
The official time shall be the time elapsed between the start of the watches or timing devices resulting from an appropriate start signal [gun] and when the athlete reaching (sic) the finish line. The actual time elapsed between when an athlete reaching (sic) the starting line and finish line can be made known to the athlete, but will not be considered as official time. (USATF 245) Finish Line Recording and Timing.